Who Is Jesus?
We believe in the Savior, the second person of the Divine Trinity, Jesus Christ. Jesus is the eternal Son of God. In His incarnation as Jesus Christ, He was conceived of the Holy Spirit and born of the virgin Mary. He knew no sin, but became sin, that He may die for us. He obeyed the divine law, and through His death on the cross, He was God's provision for the redemption of men from sin.
Whoever you are, Wherever You've been, Whatever You've done,
Welcome Home.
Bible Based. Christ-Driven. service minded.
The Greater Thankful Missionary Baptist Church seeks to
share the gospel of Jesus Christ
through corporate worship, bible studies, book studies and discussions, Sunday School classes for various groups and ages, as well as creating relevant activities for our youth and young adults.
Learn more about the different ministries we have here at GT.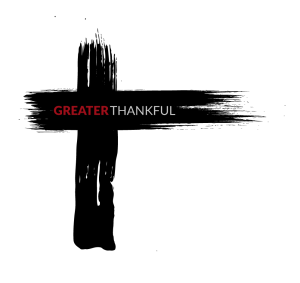 Upcoming Events/Updates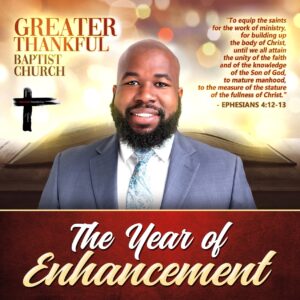 Childcare is available for all children beginning at 8:50 AM each Sunday morning.
For weekly meditation and devotion, we invite you to tune in to Deacon Ragland's Gospel Hour on WVOK 1580 AM, at 7:30 am every Sunday morning.

Be on the lookout for our monthly newsletter.

You are encouraged to download our mobile church app to stay connected to church news and updates. It can be downloaded in your App Store or Play Store by simply searching for "Greater Thankful" or just click the appropriate button below:


WAYS TO GIVE

To give online, click 'Giving' on our mobile app or website.

Mail a check or money order: Please mail checks or money orders only to:




Greater Thankful Baptist Church




P.O. Box 434




Anniston, AL 36202
Trust God. Serve People. Follow Jesus.
"You Will Turn Again" Luke 22:31-34 ESV
Catch Pastor Jackson's sermons on the radio every Sunday morning @9:00 AM on 1390 AM!
Greater Thankful Mobile App
Stay up to date with the latest from Greater Thankful by downloading our smartphone app! You can listen to, watch and download sermons, give online as well as find info about worship/outreach opportunities and special events! Please click the appropriate button below to download the app to your device!
Greater Thankful baptist Church
YouTube
Subscribe to our YouTube Channel below to access previous sermons.

Facebook
Giving
Hey, Family! We wanted to notify you that our online giving site has been updated. It has a fresher look now. The online giving system is still safe and secure as before. It continues the same methods of giving via card but has added/updated options for giving via your bank account. If you choose to give through your checking account, be advised that the checking account number entry is above the routing number entry. We want to keep you updated on changes to the system as they occur. Email us at greaterthankfulbaptist@gmail.com if you have any issues! Thank you for your generosity!
– – – – – – – – – – – – – – – – – – – – – – – – – – – – – – – – – – – – – – – – – – – – – – – – – – – – – – – – – – – – – – – – – – – – –
"The point is this: whoever sows sparingly will also reap sparingly, and whoever sows bountifully will also reap bountifully. Each one must give as he has decided in his heart, not reluctantly or under compulsion, for God loves a cheerful giver. And God is able to make all grace abound to you, so that having all sufficiency in all things at all times, you may abound in every good work. As it is written, "He has distributed freely, he has given to the poor; his righteousness endures forever." He who supplies seed to the sower and bread for food will supply and multiply your seed for sowing and increase the harvest of your righteousness."
Please note that all gifts and donations to Greater Thankful are indeed tax deductible.
In an effort to show the great things that God is doing here, Greater Thankful uses photography. Greater Thankful and its leadership wants its attendees to know that the church will use candid photos of various church activities on the website and other social media outlets.