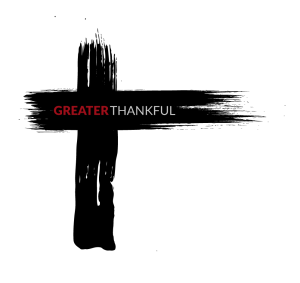 Upcoming Events/Updates
Event: Midday Bible Study

Dates: Wednesdays

Time: 12:00 PM

Join us for bible study on Wednesdays at 12:00 PM.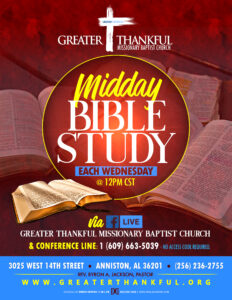 COVID-19 Coronavirus
G

T Family, please read the update below
Our leaders have been constantly and closely watching the evolving effects of the COVID-19 pandemic, and the changing conditions that it forces upon gatherings in our area. As of yesterday evening, the City of Anniston declared a local state of emergency. State of Alabama recommendations for gatherings have been lowered to no more than 25 people.
This situation is serious and the virus is spreading rapidly, hence the rise of cases in our state and now our county. While we seek to be faithful, we also aim to be wise. As we want to do what is best for our family of faith, we have prayerfully considered the safest options for the entire congregation. After much consideration, it has been concluded that the Greater Thankful Baptist Church will proceed in the following manner:
All physical on-campus meetings and gatherings, including Sunday School, Morning Worship, and Wednesday Bible Studies, are suspended until further notice.

All members are encouraged to tune in to this week's Sunday Morning message that will be shared through the following mediums:

WHMA 1390 Broadcast Sunday morning at 9:15 AM

The sermon page on our church website – www.greaterthankful.org/listen.

Greater Thankful Youtube Channel:
Click here to view our YouTube page.

For weekly meditation and devotion, we invite you to tune in to Deacon Ragland's Gospel Hour on WVOK 1580 AM, at 7:30 am every Sunday morning.

You are encouraged to download our mobile church app to stay connected to church news and updates. It can be downloaded in your App Store or Play Store by simply searching for "Greater Thankful" or just click the appropriate button below:


Giving to the ministry is still welcomed. You can give to Greater Thankful through:

Online Giving. To give online, click 'Giving' on our mobile app or website.

Mailing a check or money order: Please mail checks or money orders only to:




Greater Thankful Baptist Church




P.O. Box 434




Anniston, AL 36202
I encourage you to be proactive about your safety. Please encourage the same amongst your family, friends, and neighbors. Though we cannot gather together, you are still urged to be the church! Let us continue to pray for one another, study God's word, and seek first the Kingdom of God.
"Now may the Lord of peace himself give you peace at all times in every way. The Lord be with you all." – 2 Thessalonians 3:16
Until we gather together again to worship the Risen Savior, Jesus Christ…
Trust God. Serve People. Follow Jesus.
"I Expect It"
1 Peter 4:12-19 ESV
Rev. Byron Jackson
Catch Pastor Jackson's sermons on the radio every Sunday morning @9:00 AM on 1390 AM!